5 Fab Plush Toy Fads from the 1990s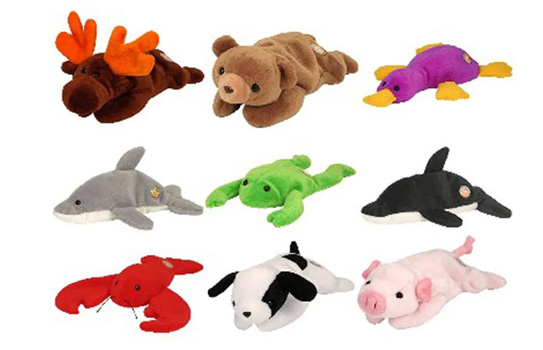 Since 1994, Beanie Babies have been a phenomenon, inspiring collectors and kids around the world. Twenty-seven years later, Beanie Babies are still one of the most beloved Ty toys, though they share the stage now with their big-eyed brethren -- Beanie Boos.
Some plush toys haven't fared well in the test of time, but others -- like Beanie Babies -- never left the stage. Check out these five iconic plush toys from the 90s; did we remember your favorite?
1. Puppy Surprise
The year 1991 birthed Puppy Surprise, a cuddly mother dog with silky ears and tail -- and a velcro-sealed tummy. The surprise comes from opening her tummy pocket to reveal how many puppies you've purchased with her. Most of the plush dogs came with three puppies, but shoppers could hope for up to five. Not to be outdone, the plush cat toy Kitty Surprise soon followed. The brand has enjoyed a resurgence lately with a reboot in 2020, though their plush faces have been replaced by plastic-molded ones.
2. Secret Keepins
Continuing the tummy-pocket trend, 1994 saw the release of Secret Keepins -- plush dogs with jeweled plastic doors on their tummies that concealed a cavity into which a little girl's treasure could be inserted. Each plastic door carried a charm that could be snapped off to use as a key, thereby keeping your secret safe.
3. Doodle Bear
Foiling parents' attempts to stop kids from drawing on their toys, Doodle Bear actually came with markers and the intent to unleash kids' creativity. The plush bears' pastel bodies became the canvas for all manner of masterpieces. Even better, they were machine washable and their bath would remove previous markings to encourage a whole new round of creative play. A new cadre of coloring bears launched in 2019 with the Doodle Bear reboot. Crayola, Alex, and other childhood creativity brands have also released their versions.
4. Tickle-Me Elmo
Lovable Muppet Elmo burst onto the scene in 1996 as Tickle Me Elmo, taking over the holiday season that Christmas. His adorable giggle just begged you to tickle his furry, red, vibrating tummy. It was impossible not to laugh along with Elmo's silly little giggle. Fueled by his popularity, maker Tyco Toys released versions featuring Elmo's gang on Sesame Street, including Tickle Me Ernie and Tickle Me Big Bird, and Tickle Me Cookie Monster. Elmo's latest tickling edition was released in 2017.
5. Furby
Furby's ability to learn and grow with repeated interactions made it the "it" toy of the 1998 holiday season. Although initially enthralled by the Furby's plush exterior and animatronic action -- including its eyes, mouth and ears -- kids and parents typically found the original Furby's neediness unsettling. Often relegated to the back of the closet, Furby would still emit the occasional cry for attention. Still, Furby went through several iterations, the latest being the 2018 edition with digital eyes instead of the large humanesque ones of its early days.
These five plush animal toys joined Beanie Babies as 1990s toys du jour, but only Ty's Beanie Babies have retained their relevance throughout the years. These days you can wear, share, clip and toss your Beanies as well as collect them. Ty's beloved Beanies have been flying off store shelves for 27 years straight, and they're ready to come home with you!