6 Tips to Choose Ty Baby-Safe Stuffed Animals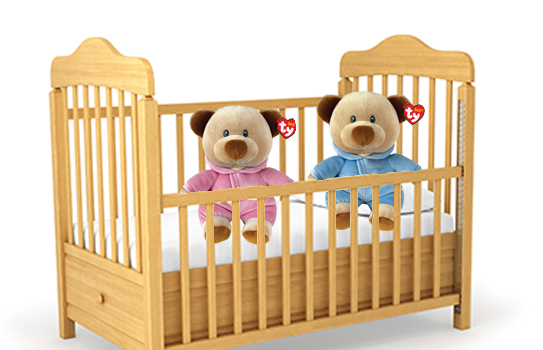 As you choose gifts and safe baby toys for the littlest ones in your life, shop carefully for baby-safe stuffed animals. Some of Ty's cuddliest plush animals keep your baby safe while giving her the sensory stimulation that our colorful, soft stuffed animals are famous for. However, not all of our plush animals are baby-safe. Use the six tips in this shopping guide to pick the perfect present for your little one.
Ty products are recommended for children ages 3 years and up.
1. Avoid Removable Parts
Any stuffed toy you give your baby will be wrestled with, tugged, and chewed. Toys with a sewn-on button, nose, eye, or any other hard piece connected to the plush could come off while your baby chews on it, creating a dangerous choking hazard. However, Ty products are affixed with a lock washer safety mechanism to prevent them from being removed. Some of our stuffed animals made for older kids feature large sparkly eyes (Beanie Boos, I'm looking at you!) or sequins. As adorable as our sequined Flippables and Sea Sequins mermaids are, don't give them to your baby.
2. Test for Sturdy Seams
All of Ty's plush animals have sturdy seams, but that's not true of all so-called baby-safe stuffed animals. Make sure as you compare stuffed baby toys that you test the seams to make sure that they'll stand up to your baby's tough love. Weak seams could mean spilled stuffing, which could end up in your baby's mouth. Depending on how long the threads are from the ripped seam, your baby could get them wrapped around a finger, a leg or even their neck.
3. Choose Non-toxic, Baby-Safe Toys
As much as we'd like to think that any baby toy would be safe to put in their mouth, that's not true. All of Ty's plush baby toys are non-toxic and made with all new materials. You can trust Ty to keep your baby safe from toxins and bacteria from recycled stuffing materials.
4. Shoot for Smaller
Babies don't have the strength in their arms and legs to move larger or heavy stuffed animals. Smaller stuffed animals are more baby-safe because they're easy to move away if they fall on your baby's face. Even if it didn't have those amazing (but not baby-safe) sparkly eyes, Squishy Beanies wouldn't be a good choice as a baby-safe stuffed animal because of their large size.
5. Wish for Washable
After your baby snuggles and chews and drools and crawls on her stuffed animal, it needs to be cleaned. Look for toys that can at least be surface cleaned. Most stuffed animals aren't washing-machine safe, but Ty's plush animals can be surface cleaned (How to Clean your Ty Beanies) to make sure that they're ready for the next time your baby puts her favorite Ty stuffie in her mouth.
6. Try Baby Ty
Our safest stuffed animals of all, Baby Ty features stitched eyes with no buttons, sequins or other little pieces that could accidentally come off and cause a choking hazard. They're just the right size for babies to snuggle, and to avoid the dangers of smothering that large stuffed animals can cause. All of our stuffed animals for babies are adorable, but our baby-safe pajama bear is a perfectly pink paragon with its hug-ready arms.